Here's the deal…
Matt HaIg's new book Is tItled Notes On a Nervous Planet. I lIke the rhythm of those words, so I stole them and gave them a Pancakes twIst. Thanks for the InspIratIon, Matt. Please contInue wrItIng fantastIc books.
I'm goIng to try and serve up one of these dIspatches once a week, but you guys know me; I've saId that before.
The smart money Is on thIs fIzzlIng after a couple of posts. That's part of what I love about the creatIve process; nothIng's ever wrItten In stone. It's just Idea after Idea after Idea and some get tractIon but most don't. Maybe 1 In 25 Ideas end up beIng worth pursuIng. The rest get archIved to be re-vIsIted at some point*1Some Ideas need tIme. They're lIke good Scotch; you need to leave 'em to dIstIll In a dark place for a few years.
I read a bIography of DaVIncI whIch stated that he fInIshed almost nothIng. I lIke that story because It justIfIes my procrastInatIon…except It doesn't because I'm not a genIus, I'm lazy.
*** If you'd like to buy any of Matt's books (or anything else), please click here to go to !ndigo.ca and I'll get a little financial reward for sending you there to spend your money.
---
It's getting really hard to keep repairing you…
A couple of Fridays back, my friends Paul, Dwayne, Peter, and I jumped in the way-back machine and spent the evening enjoying Helix, Kick Axe, and Killer Dwarfs at the Grey Eagle Events Centre.
It was a good concert. All the bands sounded and looked great, especially considering their age*2Say what you will about 80's "hair metal", that shit is hard to play and hard to sing. It doesn't get any easier when you're in your 60's and you have arthritic fingers and your grandpa's vocal chords. However, the main thing that stuck with me was a comment made between songs by vocalist Russ Dwarf lamenting how his wife had called him that afternoon and told him the refrigerator had broken. I find it amusing that that's what passes for between-song rock & roll patter for metalheads of my vintage. Not parties or women or drugs or rock and roll. Broken appliances 🙁
---
Afternoons and coffee spoons…
About 25 years ago, I was a courier in the lower mainland*3Because I had a lot of hair, which restricted my employment options somewhat. One day I had a pickup at an art gallery in Whiterock that featured local artists. The first thing I saw when I walked in the door was a small (about 12″ X 16″) painting called Deep Disturbance. It was a chaotic, swirly, abstract in purples and blues and reds. I immediately loved it. It was priced at $125.00.
I had the cash on me. It was to pay the phone bill, but I did the "responsible" thing and didn't buy the painting because I knew Telus needed the money really, really badly. I've regretted that decision ever since. It was beyond a shadow of a doubt the wrong thing to do, and I swore to myself I'd work on getting my priorities straight.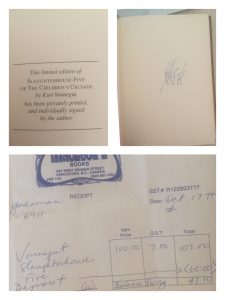 About a year later I walked into McLeod's Books in downtown Vancouver and asked if they had any Vonnegut books in hardcover because I was (and am) collecting them*4Player Piano (1952), The Sirens of Titan (1959), and Mother Night (1961) are hard to find. Get in touch if you have a friend of a friend who drives a used book truck. I told the lady behind the counter that they didn't need to be first editions or in mint condition. I prefer books that have been read and loved*5Except if they have highlighting or notes written in the margins. I HATE that.
She led me over to a locked display case and took out a special edition, leatherbound, signed copy of Slaughterhouse Five. It was in mint condition. It met none of my criteria and yet I fell in love with it immediately. I only had $60 on me, so I left a deposit and came back later in the week to pay it off*6No apologies to Telus for the late payment that month. I've never regretted it. It lives in a sealed plastic bag. I take it out a couple of times a year to fondle and sniff.
All this brings me to an experience I had last week when Sgt. Mrs. Pancakes and I went to Canmore for a stop on the Dog Park Tour. Every Thursday, there's a street market on 7th Ave between Main/8th and 9th Streets. It features local produce, arts & crafts, booze, pan flutes, and a variety of other things that hippies love.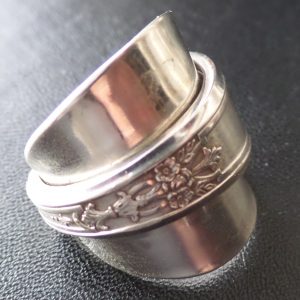 We sampled some mead and bought some honey. Then we found this lady named Marina who had a booth full of jewellery she had made out of antique sterling silver spoons and forks. Her business is called A Little Forked Up.
Even though I couldn't afford it, VISA could and it kindly bought me this ring made out of a demitasse spoon from circa 1903. It called my name. I answered.
"Things" don't have much value for me for the most part. At this point in my life, I'm far more interested in collecting experiences rather than possessions. I get only sporadic joy out of our consumer culture and it's most often triggered by finding something that feels as messed up as I feel. That being said, I do own a few items that enrich my life. Not because they're expensive or pretty but because they have soul. They have scars. They tell stories.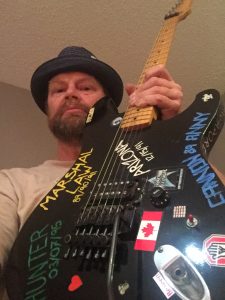 My mongrel 1983 Ibanez Roadstar guitar is irreplaceable because it represents my life in music. It's been with me for 35 years. I ruined the original cherry sunburst paint job within a couple of years of buying it by sanding it down and painting it black*7It has my thumbprint near the front strap button because I touched it before it was dry. I replaced the original bridge and nut with a Floyd Rose system. I moved the output jack*8I didn't have proper tools, so I gouged the new hole with a steak knife and a hammer and put a Duncan JB in it. Over the years, I carved the names of my bands and my kids in it with a variety of knives and nail files.
If I ever end up in a "grab what's important to you and evacuate immediately" situation, I know what I'm grabbing: Ibanez, Slaughterhouse, demitasse ring, thrashed Doc Martens 1460's, a sweater my mum knitted for me, and my favourite pictures of my kids. Everything else is just stuff. Replaceable stuff.
I regret not buying Deep Disturbance. I do not regret abusing my credit card to buy my demitasse ring.
As my wise friend Leah stated, "Always support fellow artists. Especially when it speaks to you. Art regret is forever. So is admiration of a gift that fits. Especially if it is for yourself."
---
Book Recommendation of the Week…
Van Halen Rising by Greg Renoff
This is a different kind of rock and roll book because it covers the years in which the band wasn't yet signed to a record deal. It starts when the VH brothers are teenagers in Pasadena and finishes with the release of their first album in 1978.
Even if you're not particularly a Van Halen fan, this is an interesting look at what it takes to become a rock star. It's fun to imagine attending a backyard party and having future legends playing at it.
Again, if you want to buy this book, click here to go to !ndigo.ca and I'll get a small gratuity for sending you there to spend your money.
---
That's it for this week, kids.
Woosh…
| | | |
| --- | --- | --- |
| 1. | ↑ | Some Ideas need tIme. They're lIke good Scotch; you need to leave 'em to dIstIll In a dark place for a few years |
| 2. | ↑ | Say what you will about 80's "hair metal", that shit is hard to play and hard to sing. It doesn't get any easier when you're in your 60's and you have arthritic fingers and your grandpa's vocal chords |
| 3. | ↑ | Because I had a lot of hair, which restricted my employment options somewhat |
| 4. | ↑ | Player Piano (1952), The Sirens of Titan (1959), and Mother Night (1961) are hard to find. Get in touch if you have a friend of a friend who drives a used book truck |
| 5. | ↑ | Except if they have highlighting or notes written in the margins. I HATE that |
| 6. | ↑ | No apologies to Telus for the late payment that month |
| 7. | ↑ | It has my thumbprint near the front strap button because I touched it before it was dry |
| 8. | ↑ | I didn't have proper tools, so I gouged the new hole with a steak knife and a hammer |