It's getting really hard to keep repairing you (redux)…
Last week I posted the story about Russ Dwarf talking about his broken fridge during a rock concert. Coincidentally my fridge was in the process of breaking as I was pressing "Publish" on that post. I found out about it the same way Russ did; my wife phoned me and said "The fridge is broken. What do we do?"
I spent most of the morning digging camping coolers out of storage and transferring as much food as I could to the already full downstairs freezer. Then I started tearing the fridge apart because my first thought in these situations is always, "I can fix that, and there's no way I'm paying a few hundred bucks to some guy to fix something I can fix. TO THE YOUTUBES!"
Except this time I was wrong. Our fridge had at least two circuit boards and a solenoid that controlled the flow of cold air from the freezer to the fridge*1That's how all refrigerators work, by the way. However, not all have the solenoid. The transfer of cooled air is basically controlled by gravity and manual adjustment of an aperture. It would take a professional to diagnose and fix. A little bit of research revealed that the repair person would charge about $80 just to show up, then whatever extra time and parts were required. We were looking at about $300 – $400 and an undefined wait until someone could get to the house. Meanwhile, hundreds of dollars worth of food was thawing.
Mrs. Pancakes and I agreed that the quickest and most cost-effective solution was a new fridge. Two problems with that plan quickly became clear:
New fridges cost between $1200 and $2500. TWENTY-FIVE HUNDRED BUCKS!*2

How many zip line adventures or whatever could you get for $2K?

. Due to my current experiment with unemployment, $1200 is a serious amount of money.
Nobody who sells new fridges was able to deliver before Thursday. That was three days away. By then, all the food would be spoiled.
As I referenced last week, I don't get any joy out of spending money on utilitarian stuff. Consumerism for the sake of consumerism is a sucker's game in my opinion. A brand new, state-of-the-art refrigerator means nothing to me. Nobody else gives a shit about my fridge, either. It's not a status symbol in my world.
Bow West Appliances to the rescue.
We got a reconditioned Whirlpool Gold refrigerator*3Bonus: it matches our dishwasher for $300. It has a few cosmetic imperfections*4AKA scratches and dents, but most of them are hidden by walls and kitchen counters. The price includes a one-year parts and labour warranty.
We paid cash. Problem solved.
Next problem; getting it home.
Mrs. Pancakes works at a car rental company, so we were able to rent a pickup truck for next-to-nothing. Problem #2 solved.
Oui Pancakes and I did all the grunt work of loading and unloading the new fridge*5Fridges are heavy, man, and then moving the old fridge out. Bow West said they'd recycle it for free, so we avoided the time and expense of going to the dump.
Overall, it wasn't a pleasant experience, but let's call it a win. We didn't lose any food and we saved at least $1000 on a new fridge because I have no ego about appliances.
---
A Zeke & Tall Guy update…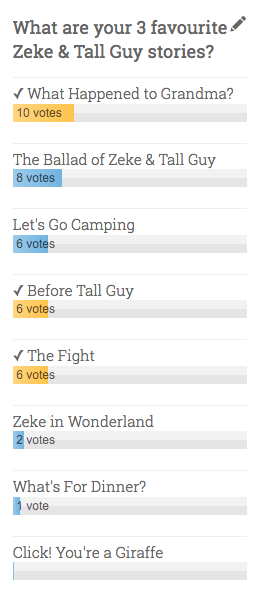 Voting is over in the Pick Your Favourite Zeke & Tall Guy Story poll. Thank you so much for your input. I confess the results surprised me a little, but that's good. That's why I did it. My favourite stories don't matter. It matters what you guys like because hopefully, you'll be buying the book when it's available.
After seeing the results and getting some invaluable advice from my friend Angela, the plan has changed. I'm not going to print a "demo tape". I'm just going to go ahead and self-publish.
This changes the timeline somewhat because I have a lot to learn and I have some money challenges to address, but I feel better about this approach. Maybe it'll be successful enough to get me a traditional book deal, maybe it won't. But I like the idea of doing it my way and taking all the credit if it flies.
I'd like to thank everyone for their encouragement. Many of you have been emailing me links to story contests and book publishers and making some very nice comments and giving me advice. It feels great and you keep me going when my inner voice*6which, incidentally, sounds exactly like David Lee Roth in his pre-US Festival interview; "YOU AIN'T GOT NO TALENT MAAAAAAAAAAAAN" is telling me I have no talent and no hope. You're too kind and I really do appreciate you and need you. Dinner's on me when the movie rights sell.
Zeke & Tall Guy will be published by the end of the year.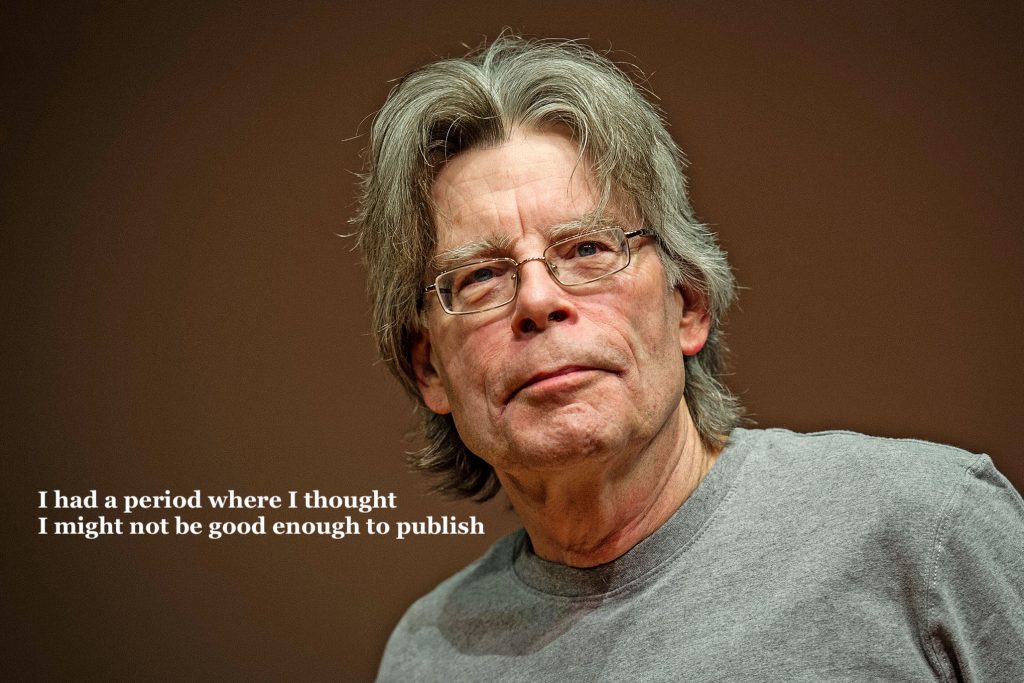 ---
Book suggestion…
Fifteen Dogs by André Alexis
This was a quick and enjoyable read. Andre's ideas about how dogs would behave if they were given human intelligence were interesting and entertaining and completely different from how I approach it.
I really liked this book.
When Hermes and Apollo make a bet about human happiness, they grant 15 dogs staying at a veterinary clinic the power of human consciousness. The dogs instantly become divided between those who prefer their old dog ways and those who want to take advantage of their newfound increased intelligence.
---
That's it for this week. Talk to you next Monday.
Woosh…
| | | |
| --- | --- | --- |
| 1. | ↑ | That's how all refrigerators work, by the way. However, not all have the solenoid. The transfer of cooled air is basically controlled by gravity and manual adjustment of an aperture |
| 2. | ↑ | How many zip line adventures or whatever could you get for $2K? |
| 3. | ↑ | Bonus: it matches our dishwasher |
| 4. | ↑ | AKA scratches and dents |
| 5. | ↑ | Fridges are heavy, man |
| 6. | ↑ | which, incidentally, sounds exactly like David Lee Roth in his pre-US Festival interview; "YOU AIN'T GOT NO TALENT MAAAAAAAAAAAAN" |