Not only is today Canada's 150th birthday, it's also the 50th anniversary of my family's arrival in Canada after emigrating from Scotland.
I like being Canadian for the most part. I like our flag. I like that it's peaceful and, for the most part, free. I like that our food and water supplies are clean and robust. I like multiculturalism. I like that we're nice to each other, and in fact don't take any offence at all when other nations jab us for being "too polite". Sorry, I'm not sorry for being sorry.
I like that my health care is taxed off my paycheque so that it feels free when I need to use it.
I like the Canadian sense of humour. I like a lot of the music that Canadians have made and continue to make.
I like spring and summer.
I don't like that many Canadians seem to wish they were American, and I don't like how firehosed we are with American culture*1Other countries have been "Americanized", but they don't understand; in Canada, America is right there! If they fart in the wind, we smell it. They can be very challenging neighbours.. I don't particularly like our national anthem, but I'm not a fan of that style of music*2Most national anthems suck, in my opinion..
I don't like how far away we are – especially in the prairie provinces – from each other. Canadians measure the space between places in time, not distance*3I know that Edmonton is about three hours drive away from Calgary and that Vancouver is about an hour-and-a-half flight.. I'm sometimes envious of my relatives in Scotland who can fly to a different language and culture in 30 minutes for the same price as I pay for a Big Mac meal. If I want to go to Montreal it's four hours and often more expensive than flying to Vegas, which is about the same distance.  In Canada, we're a 5-hour flight away from anywhere that one might call "tropical".
I don't like the idea of "distinct society" in Quebec. I don't like the exhorbitant cost of housing in Vancouver, Toronto, or Calgary.
I don't like fall or winter.
On the first day of snowy or cold or generally bullshitty weather each year, it's tradition for me to phone my parents. My mum doesn't even say "hello". She says, "Yes, I know what the temperature is in Sydney right now." Although I like being Canadian, part of me will always be disappointed that my parents didn't move us to a warmer part of the Commonwealth when they had the chance.
When my parents came to Canada, the economy in the UK was in poor shape. The government of Canada was offering interest-free loans to help people cover the cost of immigration because the country was booming and needed people to come and work. I think it was an incredibly brave thing that my parents did by moving so far away from home. The only person we knew in Canada was my dad's brother and his wife*4They'd immigrated a short time earlier.
Mum and Dad were 28 and 31, and I was 3. They packed up, said goodbye to their parents and other family members, and left everything they knew. We hopped on the final transAtlantic passenger voyage of the Queen Mary, and after stops in NYC and Toronto, we took the train across Canada and ended up in Vancouver. There's a picture somewhere of us standing on the grand staircase on the ship, me holding their hands and showing a big, cheesy grin. I can't find it at the moment, so you'll have to be happy with this reenactment that we took in Long Beach in 2008.
Moving away from home was a different thing in 1967. Immigrants isolated themselves because you couldn't hop on Skype and touch base with the old country whenever the mood struck you. I remember my parents and my uncle saving all year so they could have a five-minute phone call to Scotland at Christmas. Long distance rates were something like $20/minute in 1967 dollars. That's the same buying power as roughly $150 in 2017, so it cost my parents the equivalent of $750 to call Scotland for a five-minute chat with my grandparents on a phone line that was often staticky. You could actually hear the distance.
After a few years, things had stabilized a bit and we were able to return to Scotland every couple of years. Relatives came over here periodically*5Mostly my grandparents, but I never had any close family other than my parents. No cousins. No siblings. No grandparents. It was just the three of us.
In 1972*6I was 8, dad got transferred to Calgary. When we arrived at the beginning of January, I remember all of us looking at each other like "What have we done?". It was -20 and the snowbanks were up to my shoulders in some spots. We had no idea how to deal with such harsh weather, but we learned quickly enough. Scots are tough.
I completed all my schooling in Calgary and made close friendships that have endured 45 years. My parents got active in the community and developed a love of camping. They even square danced in the opening ceremonies of the 1988 Winter Olympics. Hard to believe that was only 21 years after they arrived in this country.
It's been a great life, for the most part. I can't think of a place I'd rather live, and I'll very likely die here. I do sometimes wonder what life would have been like if we'd stayed in Scotland. I'd have a way cooler accent, that's for sure. I'd certainly have stronger family ties*7Hi Auntie Bain and Uncle Jimmy and Steve and Gordon and would have known my grandparents better. But I'd have missed out on so much of what defines me; the friends and experiences that are the result of growing up and living in Western Canada.
I guess if mum and dad had decided to stay in Scotland, or had moved to Australia instead of Canada, I'd probably still have had a great – and potentially much warmer – life. But they didn't. They came here, and it all worked out pretty well.
I like to brag about being a Scot, but the fact is that I'm Canadian with Scottish heritage. I'm pleased with that.
Happy Birthday, Canada. Thanks for everything.
And happy anniversary to my parents and me.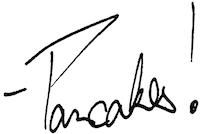 | | | |
| --- | --- | --- |
| 1. | ↑ | Other countries have been "Americanized", but they don't understand; in Canada, America is right there! If they fart in the wind, we smell it. They can be very challenging neighbours. |
| 2. | ↑ | Most national anthems suck, in my opinion. |
| 3. | ↑ | I know that Edmonton is about three hours drive away from Calgary and that Vancouver is about an hour-and-a-half flight. |
| 4. | ↑ | They'd immigrated a short time earlier |
| 5. | ↑ | Mostly my grandparents |
| 6. | ↑ | I was 8 |
| 7. | ↑ | Hi Auntie Bain and Uncle Jimmy and Steve and Gordon |